Too Cool To Be Driven: 5 of the Wildest Toyota Concept Cars You'll Ever See
By marian on July 15th, 2015
Not every car is meant for the road; some are simply created for the showroom. However, that doesn't mean they are useless; it's just that these sets of wheels are too cool to be roughened by asphalt. These are concept cars, prototypes made to showcase new styles and technology. And Toyota, one of the top car companies in the world, isn't one to shy away when it comes to the concept car arms race.
When it comes to coolness, Toyota's concept cars can blow many of its rivals out the water. The only bad about them is that they can't be driven, like the Toyota Fortuner, the Toyota Vios, and the Toyota Wigo that's for sale in the Philippines. Let's take a look at some of them:
Toyota RSC
With its futuristic design, super-aerodynamic round body, silver finish, bright headlights, and big wheels, the Toyota RSC is the SUV of choice if you are looking for a vehicle that borders somewhere between the cool and the ridiculous.
Toyota CS&S
Two-seaters are cool despite being impractical and expensive. Now imagine how impractical and expensive a concept two-seater could be. With the Toyota CS&S, you don't have to! Its name, which stands for Compact, Sports & Specialty, is embodied in the cars smooth, streamline, and luxurious white body. And aside from its looks, it also boasts of hybrid capabilities, as it has a 1.5-liter engine driving the wheels and an electric motor on the front axle. Clean and cool—just like how you want the future to be!
Toyota FINE-S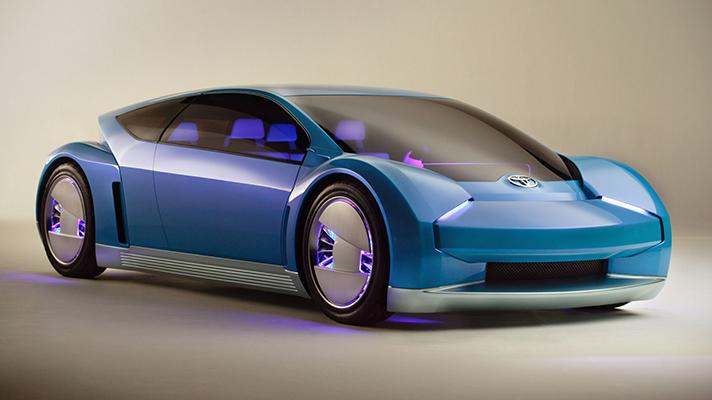 Trust us, this is not the futuristic car you see in video games or movies. In fact, this is already considered part of Toyota's past, but it looks a lot more advanced than any of the company's (or other car companies') recent churn-outs. Aside from its sleek design, slit headlights, and lighted rims, this four-seater features Toyota's highly advanced and environment-friendly adaptable fuel-cell system that employs hydrogen. Unfortunately, this mean and green machine that could've changed the car industry never saw the light of production.
Toyota FT-HS
Its design is cool and contemporary, a bit futuristic and a bit practically recent. Its sleek body suggests speed, and rightfully so, as it is outfitted with a 3.5-lter V6 engine and a hybrid system that can pump out as much as 400bhp. Fast and eco-friendly, tree-hugging adrenaline junkies would love to get their hands on one of these!
Toyota Alessandro Volta
Forget about those prestigious Italian cars that's making headlines all over the world! The Toyota Alessandro Volta is the red sports car you'll ever need! Rightfully named after the scientist who invented the battery, this smooth crimson baby employed a 3.3-liter V6 engine with two electric motors. Such an impressive engine performs with top speeds of up to 155mph and acceleration from zero to 62 miles per hour in just four seconds. Like many of its concept cousins, though, it never got mass-produced because it's too much of a game-changer for common folk—or so they say.
They say the future is looming bright and near. With Toyota concept cars, it already is! These amazingly designed vehicles have proven that tomorrow is already yesterday.